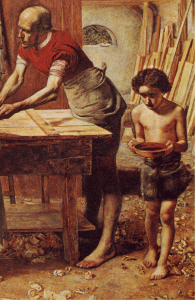 This past weekend, I was talking to my apprentice about character and the great potential it brings, if we were truly surrendered to God. Surrendered as if we were empty vessels. I used vessels in the sense that we have capacity to be poured into and then poured out. Imperfect vessels as we are, without holes (in our faith and character), can contain blessings to God and others, in a way that we can daily be poured out as a drink offereing.
I recently heard a story about a tumultuous time in a man's, family growing up in India. As a part of this story, relating to his mother's character, he quoted this part of an Indian proverb:
"Whatever you are overflowing with will spill out"
Easy to understand, right? The little boy in the carpenters' workshop (pictured) appears to be moving cautiously with a filled vessel (bowl) that serves some purpose (poured or somehow discharged to use) in the shop. If his father or master (pictured) was to back up as the boy went behind, he might bump into him, jostling his hands and potentially causing the contents of the bowl to spill. The question is, if that bowl is us, what spills out?
For this reason I bow my knees before the Father, from whom every family in heaven and on earth is named, that according to the riches of his glory he may grant you to be strengthened with power through his Spirit in your inner being, so that Christ may dwell in your hearts through faith—that you, being rooted and grounded in love, may have strength to comprehend with all the saints what is the breadth and length and height and depth, and to know the love of Christ that surpasses knowledge, that you may be filled with all the fullness of God. (Ephesians 3:14-18; Ephesians 3:19 ESV)

Now in a great house there are not only vessels of gold and silver but also of wood and clay, some for honorable use, some for dishonorable. Therefore, if anyone cleanses himself from what is dishonorable, he will be a vessel for honorable use, set apart as holy, useful to the master of the house, ready for every good work.
(2 Timothy 2:20-21 ESV)
"…out of the abundance of the heart the mouth speaks. The good person out of his good treasure brings forth good, and the evil person out of his evil treasure brings forth evil. I tell you, on the day of judgment people will give account for every careless word they speak,
for by your words you will be justified, and by your words you will be condemned."
(Matthew 12:34-37)